Posted in Diabetes, Heart & Vascular, Nutrition & Food on Jun 01, 2008
Why are 13 million of our friends and neighbors all taking a drug that may or may not be helping them? Protecting your heart from a heart attack has little to do with lowering LDL....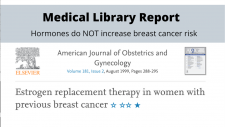 Posted in Breast, Cancer, Hormones – Women on Jan 01, 2002
Medical Literature Review: Evidence that bio-identical hormone replacement is not only safe but actually lowers breast cancer risk. (Summary)...