"I reject the notion that the quality of our life, that our energy and ou

r

mental capacity
must decay as time passes by."
— Gary Huber, D.O.
Huber Personalized Medicine
was founded because pursuit of ideal health requires a compassionate partnership between you the patient and us as providers.
---
Our Pledge
We believe in your ability to live vibrantly at any age.

We work to enhance and restore your inherent physiology in order to reduce your dependency on drug therapy.

This is personalized medicine. Everything is tailored to your individual needs.

Everything we do is based on the scientific literature. It's the cutting edge understanding of human physiology.

We will show you step by step how to gradually redefine your lifestyle.

Quality

at all times

in every element.
Our Practice
Integrative Medicine
Care of the whole person, mind, body and spirit is the practice of integrative medicine. Your stress level, diet, exercise habits, sleep patterns, medications, family history, genetics, past experiences, toxic exposures and more contribute to how your mind and body function today. All of this is open to change and improvement to direct how you feel on a daily basis.
Traditional medicine treats symptoms of a disease using drug therapy. This might ease discomfort but rarely if ever addresses the CAUSE. Drug therapy will never make anyone HEALTHY. Rarely is the source of the problem fully researched or understood. Our quest is to get to the root cause of your health challenges and then show you many paths toward reversing and rebuilding. There is much more available beyond the use of drugs to improve your physiology and restore good health.
We focus on early detection of disease, preventive, proactive treatment and true reversal to enhance longevity and vitality. If you're going to be here in this life then why not enjoy the journey?
Our work is complementary to and in harmony with your regular doctor. Questions about our relationship with your primary care doctor can be found here under New Patients.
---
Doctors and practitioners
Dr. Gary Huber spent 20 years as an Emergency Medicine physician before evolving his practice to integrative care. Integrative medicine addresses lifestyle in the pursuit of ideal health to seek and reverse the cause of illness. Beyond simple reduction of symptoms we engage to promote robust health, strong cognition, ample energy, restorative sleep and vital living.
Dr. Huber lectures nationally on hormone replacement therapies, cardiovascular care, sports medicine and other integrative medicine topics for the American Academy of Anti-Aging Medicine and George Washington University's Metabolic Medicine Institute. He has developed a unique Corporate Health Program that attacks Metabolic Syndrome to reduce health care expense while restoring employee's productivity.
Dr. Huber and his wife Beth are avid cyclists and outdoors people who love spending time outside with their dogs and 2 kids. His passion is exploring the boundaries of human performance. "We are only limited by our minds ability to see the next possibility. It is our mind and not our body that holds us back from the ultimate life experience."
See Credentials
Medical school – Ohio University College of Osteopathic Medicine. Graduated top 10%.

Residency – Doctors Hospital, Columbus, Ohio – Board certified in Emergency Medicine. Chief Resident Honor.

Integrative Medicine professor – American Academy of Anti-Aging Medicine, University of South Florida and George Washington University's Metabolic Medicine Institute.

Clinical Professor and Preceptor - University of Cincinnati, College of Pharmacy



Clinical Professor and Preceptor – Ohio University College of Osteopathic Medicine.

Board Certified Integrative Medicine Practitioner thru American Academy of Anti-Aging medicine and Metabolic Medicine Institute

Author of "

Breast Health – How

To

Avoid Breast Cancer

", an e-book offering women guidance on breast health to avoid breast cancer



Author –

Metabolic Syndrome and Cardiovascular disease

: a look at the mechanism that drives this inflammatory process. Part 1 – Understanding the metabolic problem. Published in the Townsend Letter medical journal, May 2013




Author -

Metabolic Syndrome and Cardiovascular disease

: Testing & Treatment. Part 2 – Quantifying risk and review of treatment options. Published in the Townsend Letter medical journal, June 2013



Author –

Safe & Effective Ergogenic Approaches to Advancing Sports Performance and Health

. Published in the Townsend Letter medical journal in 2014.

Author -

Can Endurance Sports Really Cause Harm? The lipopolysaccharides of endotoxemia and their effect on the heart.

Published in the Townsend Letter medical journal in 2015

Author –

Integrative Treatment Approach

To

Cardiovascular Disease. Published in the Townsend Letter medical journal, May 2016.

Author –

Testosterones Beneficial Impact on Cardiovascular Health

. Published in Townsend Letter medical journal, May 2017



AWARD: Dr. Huber was honored with a

"Leadership Award"

by Cincinnati based Venue magazine for his work in integrative medicine. 2014

AWARD: Honored with the

"Best

In

Medicine"

award from the American Health Council in 2017. Awarded for his contributions to the advancement of integrative medical care and active education role.

Founding member of "Hey Coach", a charitable organization that delivers lectures to grade school and high school students about the dangers of steroid use while offering healthy strategies for optimizing sports and academic performance.

Medical director for the Flying Pig Marathon, Cincinnati, Ohio – 2001 & 2002.

One of the original founders, creators, and active board member of "Loveland's Amazing Race," a local charity event.



Dr. Anthony Bianco was born and raised in Cincinnati and received his medical degree from Ohio University. During his medical training, he realized the gaps in health care pertaining to chronic disease management, especially with musculoskeletal health. His passion for practicing the Osteopathic philosophy and seeking the higher truth can be understood through the wisdom of A.T. Still: "To find health should be the object of the doctor. Anyone can find disease."
Dr. Bianco has received specialized training in joint and pain management treatments. He engages Prolotherapy and dry needling as tools to aid recovery and avoidance of surgery.
Dr. Bianco is very passionate about rekindling our ancient forefathers' traditions in natural foods, self-sustaining farming and getting back to what is genuinely healthy for the human body.
See Credentials
Medical school - Ohio University Heritage College of Osteopathic Medicine

Residency - Doctors Hospital, Columbus, OH - Board Certified in Family Medicine and OMM

Residency -

O'Bleness

Hospital, Athens, OH - Board Certified in Neuromusculoskeletal Medicine and OMM

Clinical preceptor - The Wright Center, Family Medicine Residency

Dr. Bianco sees patients in our office on Thursday and Fridays. We are thrilled to welcome Dr. Anthony Bianco to our practice!
Chelsea Dorsett  is a Registered Dietitian and Lifestyle Coach at Huber Personalized Medicine. Unlike traditional dietitians, Chelsea will never tell you to count calories, believes in the power of the egg yolk, and will constantly remind you that a slice of whole-grain bread will raise your blood sugar faster than a candy bar. Wait, whole grains are bad for you? The never-ending contradicting nutrition advice is overwhelming, to say the very least. If you are wanting to eat healthy, how on earth do you navigate through food blogs, celebrity-endorsed food products, and media reports? How did it become so difficult to know what is healthy and what isn't? Chelsea will help you with a clear and simple path.
Chelsea's patients find success while building a healthy relationship with real, whole foods that nourish the body. Set aside conflicting nutrition myths and rest assured you are given research-based knowledge that is simple and practical. Chelsea utilizes an empathetic, positive, non-dieting approach while counseling her patients. No points. No magic pill. No guessing. Just real, whole foods and substantial education. 
Chelsea specializes in:
Optimal gastrointestinal health, food allergies, and intolerances

Addressing mood, anxiety and insomnia through diet changes & supplementation

Metabolic Syndrome: hypertension, diabetes, cholesterol & weight management

Sublingual Immunotherapy Allergy Treatment (SLIT Drops)

Behavior modification
In addition to counseling patients, Chelsea has a passion for corporate wellness and has lectured for several corporations including P&G, Total Quality Logistics, PepsiCo, Cincinnati Financial Corporation, and Messer Construction.
See Credentials
Bachelor of Science in Dietetics- University of Kentucky
Registered and Licensed Dietitian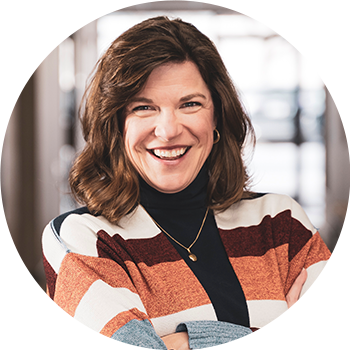 CAROL TALLARIGO, PATIENT CARE
Carol is the front office manager at Huber Personalized Medicine. In addition to patient care at HPM, Carol is a personal chef and caters many local events. She is busy attending her two teenage boys' extra-curricular activities and she is a boy scout leader.