At Huber Personalized Medicine we pride ourselves in our ability to change and shape people's lives. Our process guarantees that the HPM staff will champion you through every step of your journey - no matter how long or how difficult. This not only benefits you, the patient, but it also benefits all of us here at HPM. We get the chance to feel the excitement and joy that comes with every patient's incredible success...and we wouldn't have it any other way.
All Testimonials
Cole Tilden, 18, male. Athlete (rower) optimizing his performance.
Cole is an amazing young athlete with tremendous potential. Cole was already the best rower in the city when he came to see me. But like many top athletes he wasn't content with good he wanted greatness. He wanted to get that last 5 to 10% of his potential to emerge so we worked to remove old diet myths and focused on his nutrition and recovery strategies. His focus and desire resulted in obtaining a full scholarship to Yale and being asked to join the U.S. National Rowing Team. Cole is an amazing young man that I feel blessed to have worked with.
With the help of Dr. Huber's personalized approach to athletic performance and overall wellness I have been able to soar to new heights as an athlete that I never previously anticipated...
Matt, 43 year old male. Metabolic Syndrome, weight loss, high blood pressure and cholesterol.
Matt had a heart attack at age 36! The average life expectancy after a heart attack is less than 6 years!! Matt got involved with the Virtuoso Corporate Health Program at work and turned everything around. Come read his story.
"Since starting the Dr. Huber's Weight Loss Program, I have learned that this is not another diet, it's a life change. You're not doing this to lose weight. You're doing this to feel and be healthy. The nice side effect is weight loss"
Patty tells her weight loss story. Her new life! Metabolic Syndrome
Patty engaged our Virtuoso weight loss program through her employer who asked us to get involved with their corporate health. Patty knew she wanted to change but had tried many program without finding lasting success. The sweet lovable personality that lived inside her was buried under aches, pains and had no energy. She found a new life and emerged with her infectious laugh once she took back control of her life with the help of the Virtuoso mindset. Hear her wonderful story . . . and laugh.
Ken, 45, male. Morbidly Obese, High Blood Pressure, High Blood Sugar and Insulin (Pre-Diabetic)
I tried not to ever think of myself as being an overweight person. Always prided myself over the years for being able to do the same things that normal people do while I was so overweight. I was in denial for years and years...
Ken weighed 501 pounds at 45 years old, and with 4 kids he was concerned he wouldn't be alive to see them grow up. He lost more than 200 pounds in 9 months and is still losing. His depression lifted, his blood pressure and sugar normalized, his energy went thru the roof, and his whole life changed.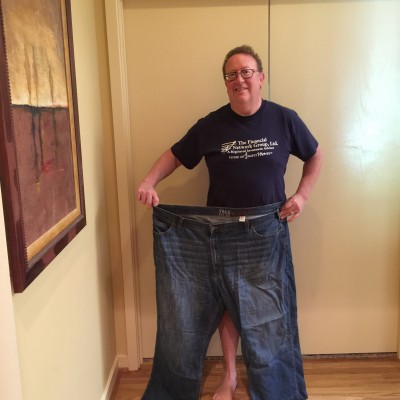 Maralah, 68, female. Issues with arthritis and trigger finger.
Casey reports: Maralah is a delightful 68-year-old woman who came to us with complaints of trigger finger of her left index finger and arthritic pain to the base of both thumbs. She had a decreased range of motion in her fingers causing her to struggle with basic daily tasks. We applied non- invasive acoustic wave joint treatments and were able to resolve the trigger finger and improve range of motion in general. The arthritic pain eased and she reported pain had dropped from an "8" down to a "4" out of 10.
After 4 treatments: "Prior to my first acoustic wave therapy treatment, my trigger fingers bent and had to be straightened by using my opposite hand, and the pain was extremely intense (so intense that it took away my breath). But a week after the fourth treatment, the soreness and pain began to subside. Two weeks after the fourth treatment, much of the pain had subsided. The left thumb is easier to straighten and with not as much pain.
After a 3 week break and 3 additional treatments: "Nine days have passed since the third treatment of this second series. The right thumb is somewhat sore but seldom catching. The left index finger is slightly sore but has not been catching. Thank you so much"
Joe, 67 year old male. History of high cholesterol and chronic arthritis affecting several joints.
Dr. Bianco shares Joe's story: Joe is at 67 year-old-man with a history of high cholesterol and chronic arthritis affecting several joints. He received 2-3 monthly session for joints including shoulder, hip, knee, right foot/bunion, trigger finger and hand. Joe responds very well to prolotherapy treatment, which has allowed him to continue working in less pain and walking/golfing regularly with no significant issues.
Joe: "Prolotherapy over the past years has given me the ability to continue my work. I have a history of arthritis in knees, hip and foot, trigger finger and rotator cuff partial tear from an accident. Prolotherapy has helped get me back walking 3 miles, lifting weights and get back to golfing regularly. The ability to do what I enjoy has provided happiness and the strength to keep working. I've had cortisone injections in the past that provided temporary relief, but for my trigger finger it has been over one-and-a-half years since prolotherapy and still no pain today. Thanks Dr. Tony for allowing me to continue my career and live joyfully!"