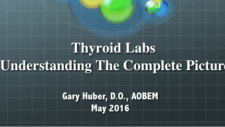 Posted in Thyroid, Videos, Weight Loss on May 01, 2016
Getting a "COMPLETE" thyroid lab assessment is key to understanding your risk for real thyroid problems. This discussion exposes the pitfalls that often result in poor treatment or lack of understandi......
Posted in Detox (Toxins), Thyroid, Toxins on Jan 01, 2015
Published by The Environmental Working Group. Common chemicals that you come in contact with every day may be altering how well your hormones work and overall risk for disease in general. Learn how to......